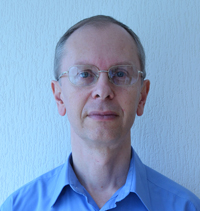 Yannick DEVILLE: home page

Local links / liens locaux :

Some teaching structures I am in charge of / certaines structures d'enseignement dont je suis responsable :

Research activities / activités de recherche :

Files for some of the Ph.D. dissertations that I (co-)supervised / Fichiers de certaines des thèses que j'ai (co-)dirigées :


Nabil Charkani, "Séparation auto-adaptative de sources pour les mélanges convolutifs. Application à la téléphonie mains-libres dans les voitures" (postscript file /fichier postscript).
Frédéric Abrard, "Méthodes de séparation aveugle de sources et applications : Des statistiques d'ordre supérieur à l'analyse temps-fréquence" (pdf file /fichier pdf).
Johan Thomas, "Algorithmes temporels rapides à point fixe pour la séparation aveugle de mélanges convolutifs et/ou sous-déterminés" (pdf file /fichier pdf).

Data and software (especially for Blind Source Separation) / données et logiciels (en particulier pour la Séparation Aveugle de Sources) : Go to data ... / Lire la suite...

Address:
Prof. Y. Deville
Institut de Recherche en Astrophysique et Planétologie (IRAP)
Observatoire Midi-Pyrénées - Université Paul Sabatier Toulouse 3
14 Av. Edouard Belin
31400 Toulouse
France
Tel : +33 5 61 33 28 24
Fax : +33 5 61 33 28 40
Contact: firstname dot lastname at irap dot omp dot eu